Last two Saturdays ago, I had two events to attend in town. One was the monthly "The Gallery Experience" by
Mandarin Gallery
. For one weekend a month, the Mandarin Gallery transforms indoor and outdoor spaces to Instagram-worthy places for activities such as Surf Set, Barre and Silent Yoga. It was really gorgeous with all the colours, lighting and more!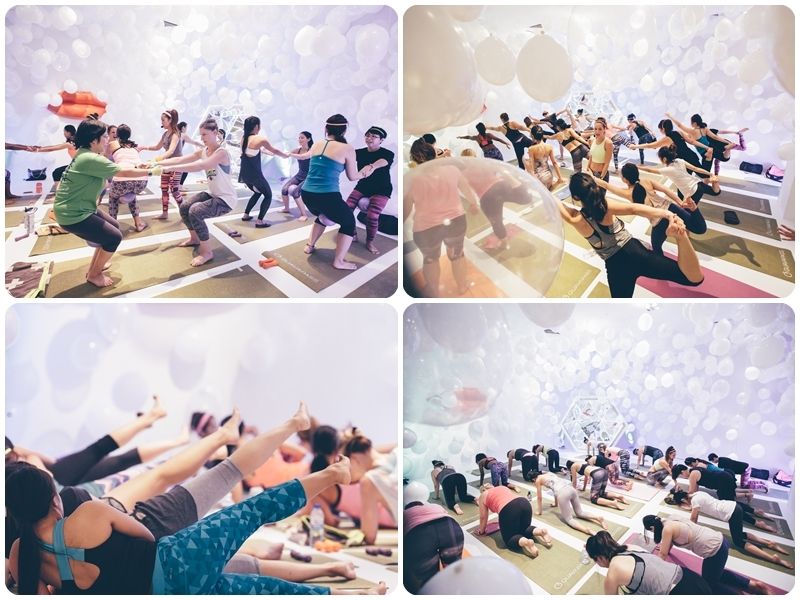 Photo Credits: Mandarin Gallery
Curated lifestyle programs such as fitness, F&B and craftwork themed events take place on a monthly basis. Check back on
Mandarin Gallery Facebook page
for next month's edition! Thanks H+K agency for the invite!
Photo Credits: Mandarin Gallery
Other than an adrenaline rush after doing all the fitness exercises, another way to get a rush of blood to one's head would have been attending the "Hottest Denim Party" by
GUESS
, where attendees get to meet and mingle with the finalists of the
CLEO Most Eligible Bachelors 2016 contest
!!! Click
[HERE]
to check out the contestants! ;)
This was my Outfit Of The Day (OOTD) for the whole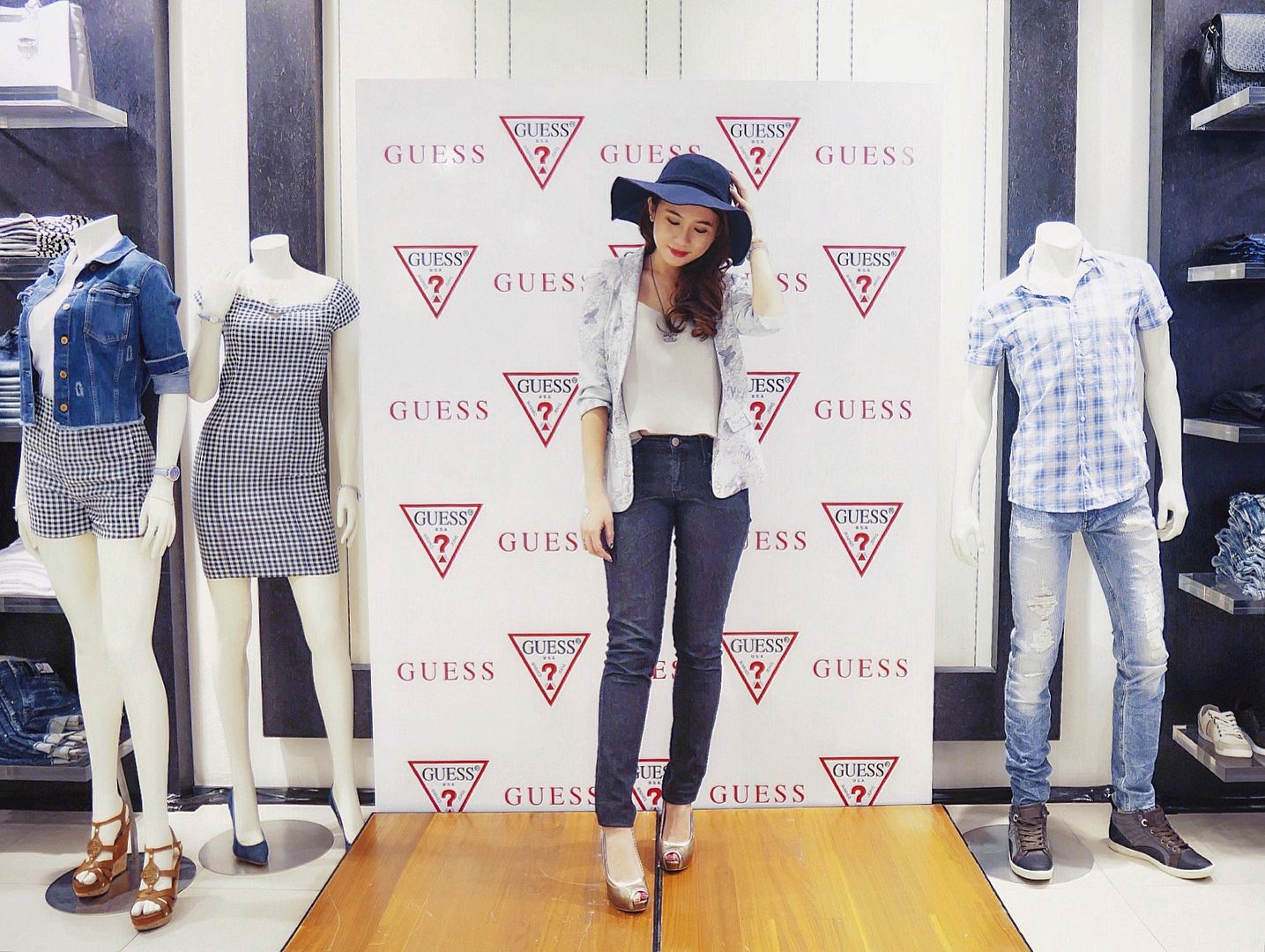 No brainer here, but obviously an event to showcase eligible bachelors would have more guests from the gentler gender.
That was the only thing that I would like to complain about, as I had to fight with the other ladies for the bachelors' attention.
There were many reasons why this event was AWESOME, and here are some...
(1) PHOTOBOOTH
Who wouldn't like to have their photos taken? What's more, via a GIF PHOTO BOOTH, and the shots can be sent to your email, or best... To upload immediately onto our own Instagram account. Other than that, a copy of the four poses were printed for us to keep. SWEET!~
(2) CANAPES N' DRINKS
(3) HUMOROUS AND GORGEOUS-LOOKING EMCEE
The event emcee was none other than 987FM DJ, Sonia Chew! The petite and pretty Sonia rah-rah the crowd with her jokes and energy!


Photo Credit: CLEO Facebook
(4) VALUABLE STYLING TIPS
CLEO's Fashion Director, Janice, gave us style tips for different body types and sizes, when it comes to selecting "THE" jeans that is the most suitable for one's body type. There were four models of different body build as examples of the different body types.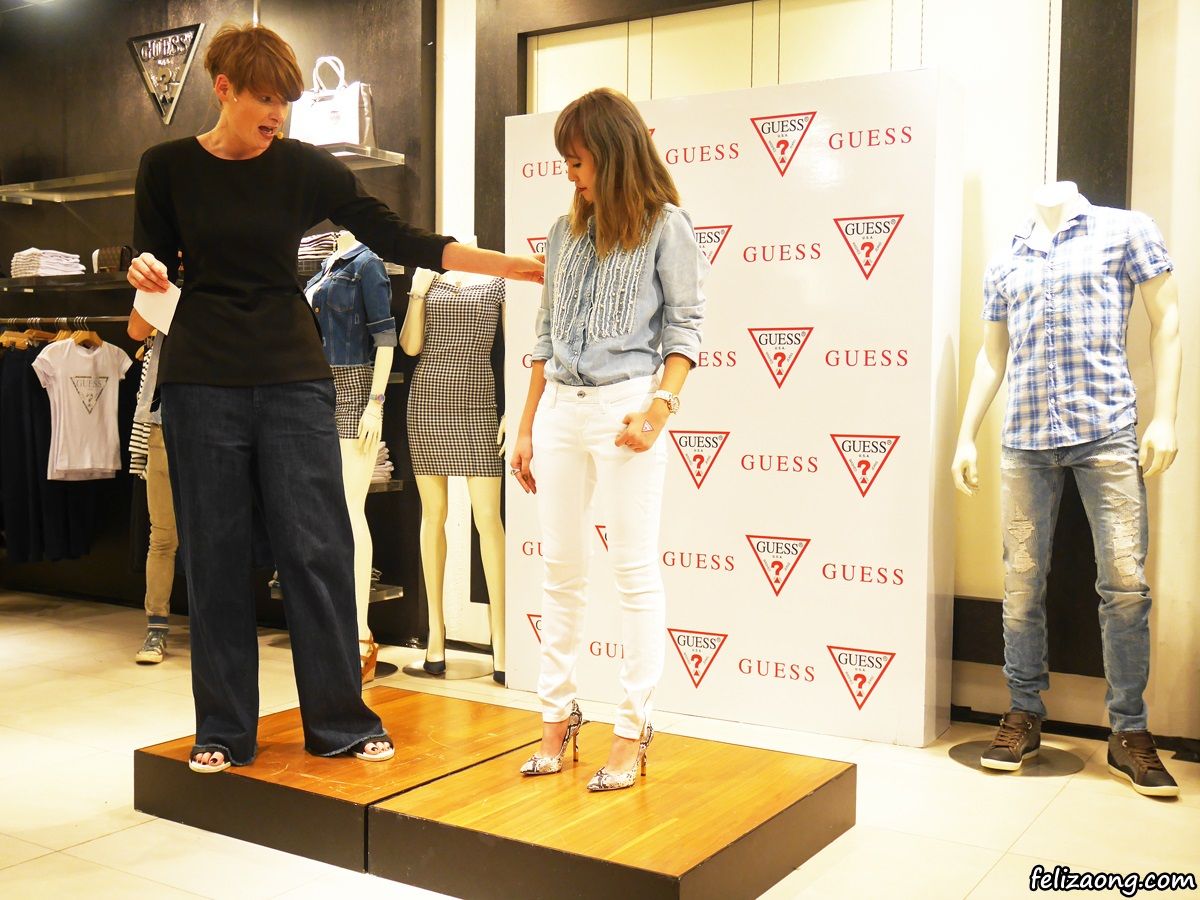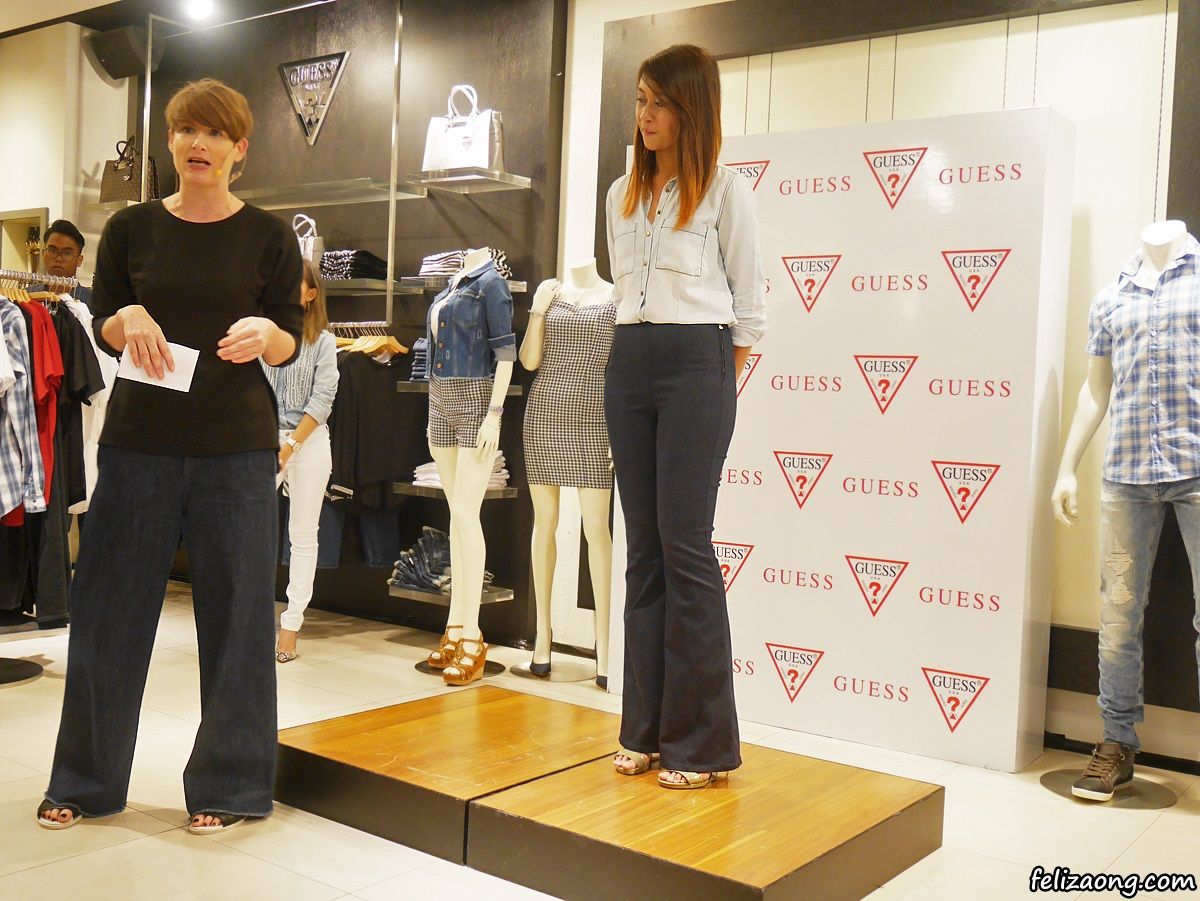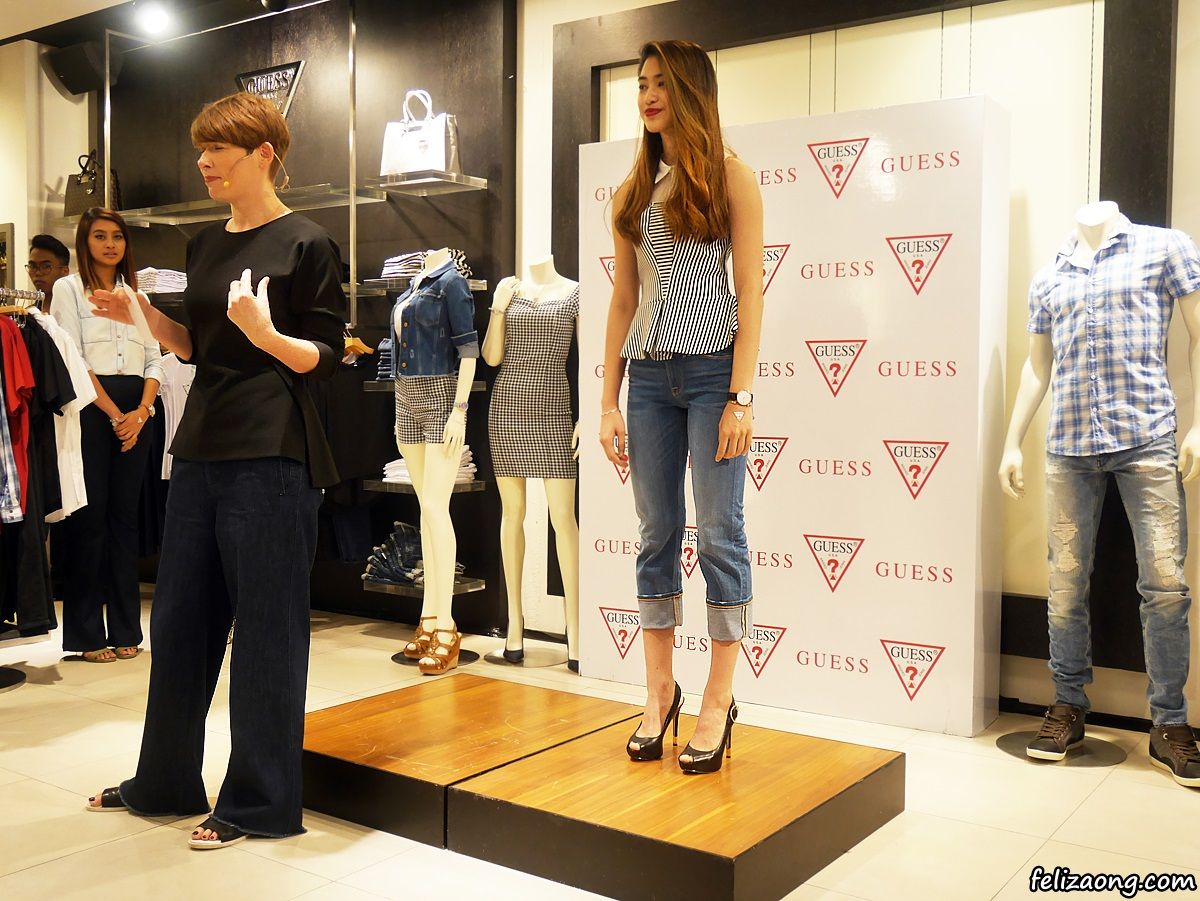 (5) MEN MEN MEN (!!!)
*Ahem* Needless to say. Some of the contestants were SO young! Darn, I feel old. A handful were charismatic and outgoing, whereas some could still work on their stage presence (says me, a previous pageant contestant, and winner to boot). Anyway, one of them, Christopher Hwang, is still a law student but already an entrepreneur, owning the swanky Suite26 club. Talk about being eligible, ladies~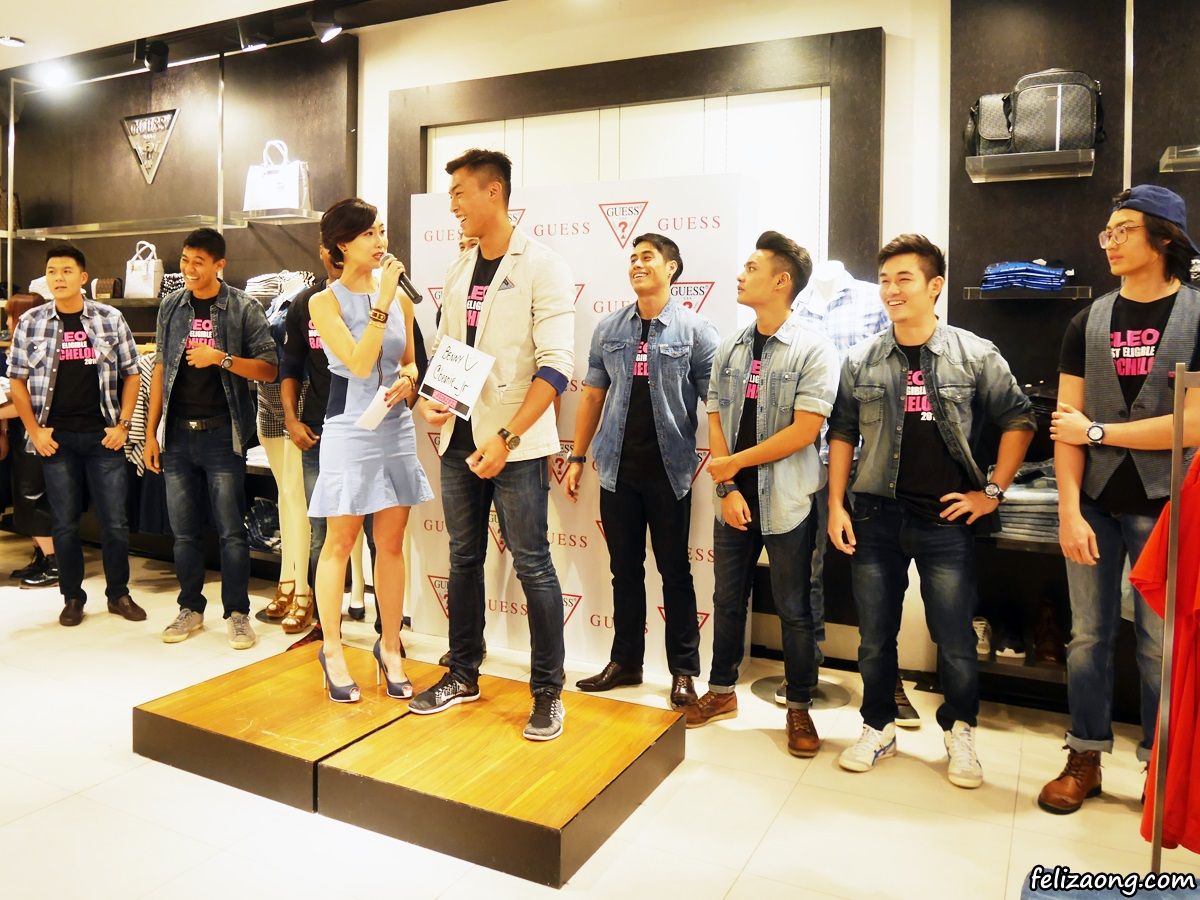 (6) PURCHASE DISCOUNT
All menswear purchase came with an awesome discount! You bet that I wouldn't miss it for the world, and I walked out of the Guess boutique with paper bags
(7) GOODIE BAG
These were given to us in the goodie bag. I have my own Guess mug now! There's a $50 voucher, CLEO magazine and a very useful To-Do notepad. Oh, and thats the printout of the photos taken at the GIF Photo Booth. :)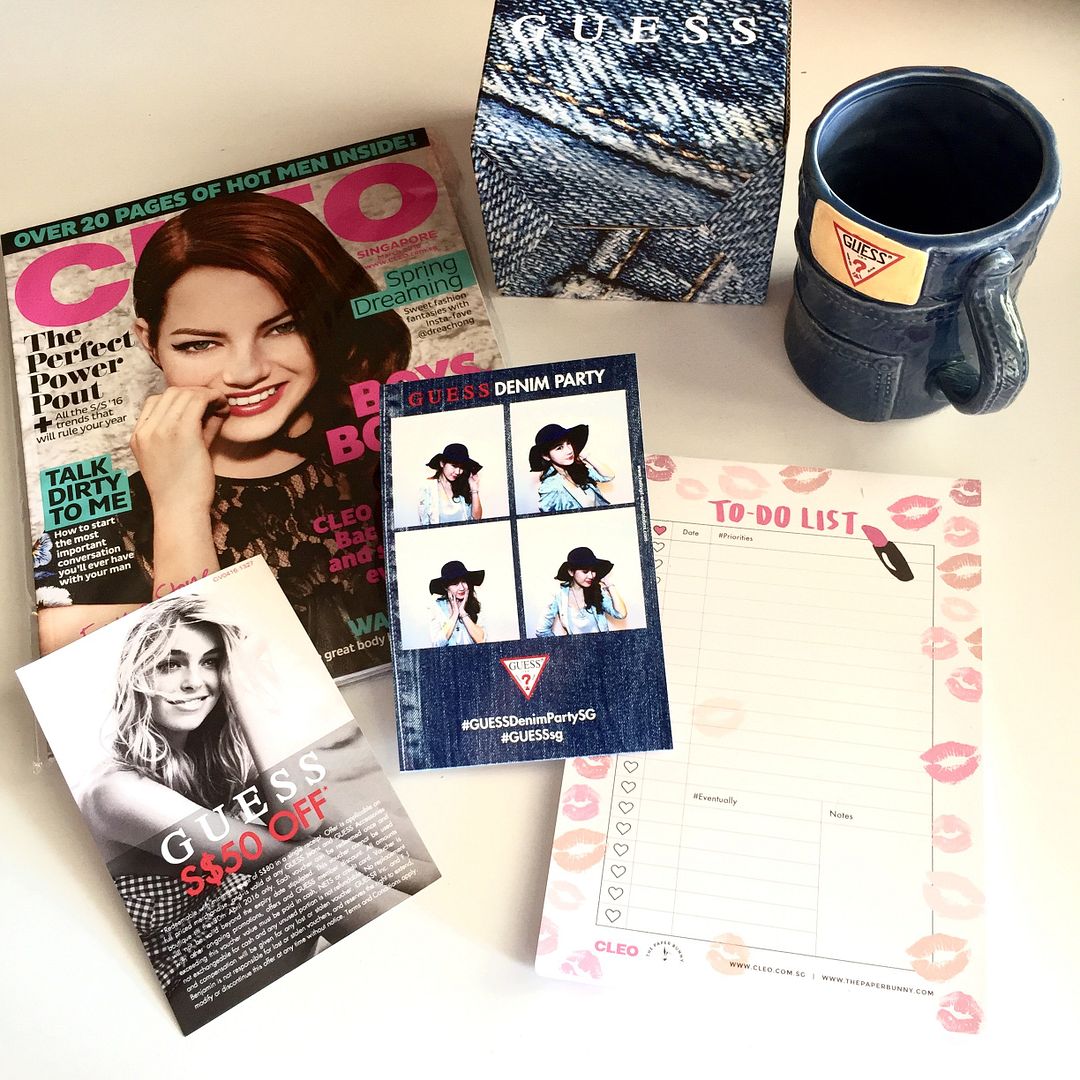 (8) TICKET TO THE CLEO MOST ELIGIBLE BACHELORS 2016 FINALS
Not all guests would have it. But I have a pair!!! I'm still contemplating of going though.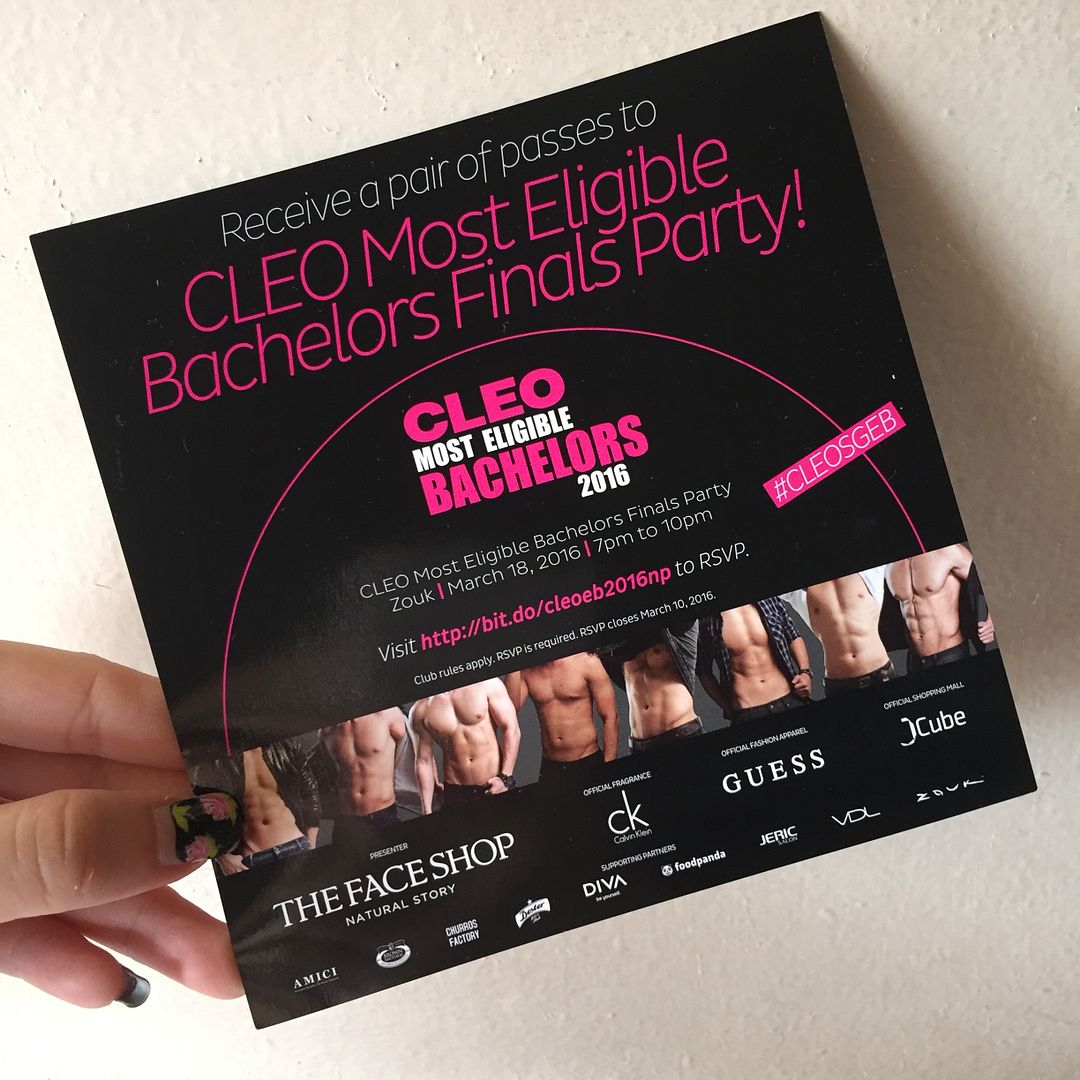 The CLEO x Guess event was to start supposedly at 3pm, but it took quite awhile before it officially started (much to some excited ladies' annoyance probably, haha!). The eligible bachelors introduced themselves, while Sonia made jokes and teased them, which led the crowd laughing away. There was also a game where ten ladies got to pick clothes from a whole rack of selected Guess jackets and tops and dress the contestants up. Janice picked the best-dressed dude, and I have to say, it was really a great outfit! The event ended about 5pm.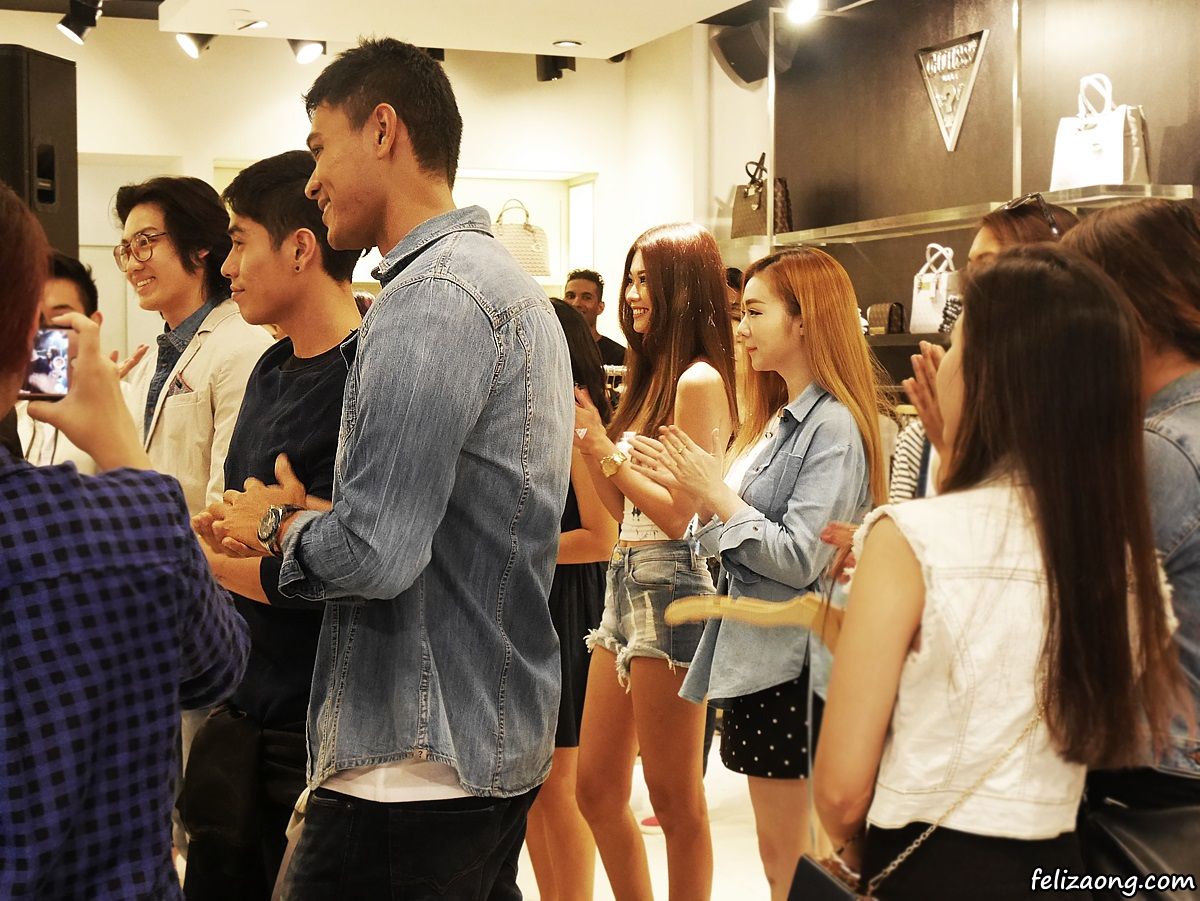 So that was it... Two events in one day. And I were to have one more event the following day too. But that's for another post altogether. Thanks for reading! :)