Some time back, I had lunch at
Oriole Cafe & Bar
. It is located at the Pan Pacific Serviced Suites, just beside of 313 Somerset (Near the entrance of Marche). And I wanted to dine there as I wanted to try their coffee. Afterall, the owner, Keith Loh, is an avid coffee lover, and has won the Singapore National Barista Championships and National Latte Art Champion previously. Most recently, he also won the
Cup Tasters' Cup 2013, and will be representing Singapore in the world competition in Nice, France. I needed to taste whether the coffee is as good as what I heard it is! :p
I liked how there is the alfresco area for people to dine at too, but given that the weather that day was very hot and humid, I chose the indoor air-conditioned seating area, with high ceilings, and unique lighting chandeliers. I liked how this cafe gives the "chilling-out" vibe, a place where I can imagine myself sitting there for hours in the afternoon... And that was what I did that day when I was there actually!~ :p
The Fish & Chips were quite a disappointment actually. Or perhaps, I had high expectations for it, since I remembered a blog entry that I came across long time ago by
Brad aka @ladyironchef
about Oriole
serving the best fish & chips in Singapore
. I do check out ladyironchef's site for places to dine at rather often (You should too!) , and often his recommendations are of hits than misses, in fact! :)
The coffee, was good. It carried a rich body while exuded that lovely aroma. It was a joy drinking the coffee and like how I always look forward to my next cup of coffee at Strangers' Reunion, I look forward to that too, at Oriole.
Here's a collage of the indoor area of Oriole Cafe & Bar.
And my OOTD - Simple but great for the day's weather. :p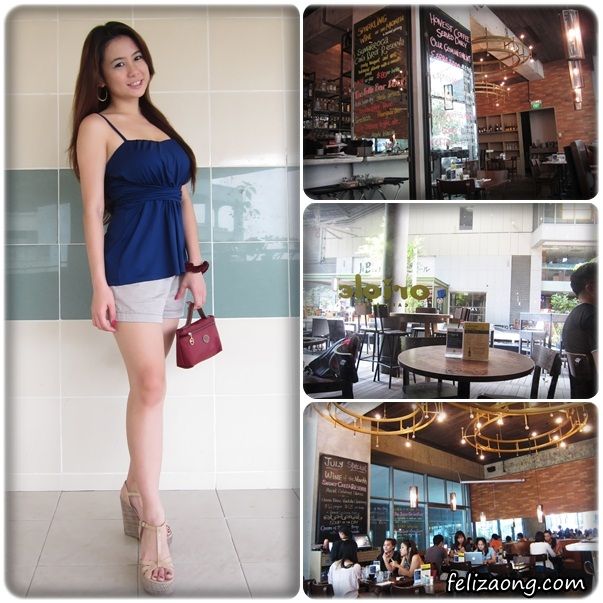 I just realized how big I looked on a widescreen monitor screen,
as compared to my laptop screen. Zzz..