Recently, I attended the
Philips Living Space
event, where
Philips
showcased their innovative, creative and lovely lighting solutions. It was an event for their partners and media. It was a cosy and intimate event that was enhanced with the lighting displays.
This was one of the products that were showcased -
LUMIWARE Vase
.
Wireless charging capability, rainbow color changing.
LUMIWARE coasters...
colors can be changed too!
I was really amazed by all the lighting, as I didn't know of such lighting products from Philips till I attended this event, as all these while I was only aware of their table lamps and bulbs. I am especially intrigued by this particular product from Philips -
LivingColors LED Lamp
. I stood there playing and adjusting the colors, hues and brightness 'for I-dunno-for-how-many-minutes-but-for-quite-some-time'. Having this LED lamp in the living room or bedroom definitely add a new kind of atmosphere to the area. I liked the LED Lamp product the most, followed by this other product that was showcased -
Reading Light
.
This Reading Lamp is really interesting as it is actually a flat acrylic piece whereby a LED lamp is installed to it. The design was made in a way that it can actually 'hang onto' your book. Certainly good for those who has to read in the dark or dim places. Example: You wanna read your favorite novel/magazine on the bed, but your partner wants to sleep and he/she can't sleep if you leave the room light or bedside lamp switched on. This will come in really handy! I was interested to get this product after learning that it is already available in the market. And little did I know, it was given to me in my media kit bag! I only found out about it when I reached home that night. What an AWESOME surprise!!!! This retails for SGD99 by the way.
Gosh! I am so happy to have this!
Not that I am a brand-loyal customer, but somehow I realized that I have quite a number of consumer goods by Philips. Somehow, I think my Mum is prone to buying Philips too? I don't know why! :p For myself, I have 2 hair dryers, 2 hair epilators, 1 hair straightener, 1 hair curler, 1 handheld vacuum cleaner and 1 table lamp. My bro has 1 DVD player for himself. Our family's vacuum cleaner, home theater system and juicer are also from Philips.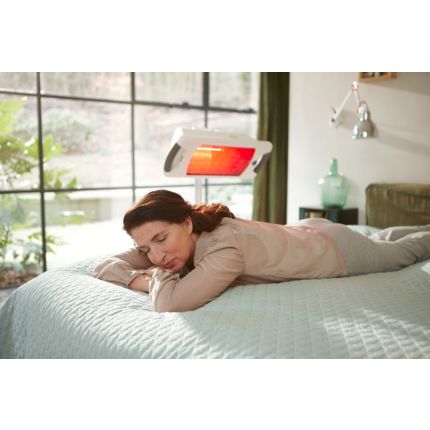 I think epilating is better than shaving, if given only these 2 options.
These 2 were bought for me by Bbb.
Hair Curler, which I have not used till now.
But I started using my straightener already (But no pic of that).