The other day when @anthonyl1m went for his muay thai training, I decided to have some "me time" during those few hours. So he dropped me off in Orchard before his training. And that's not what I am going to blog about exactly...


Instead, I wanna talk about me being dressed in green. I was dressed in a top which consists of different shades of green, and I wore a pair of green shorts, with a pair of wedges that has a lil green color on it. Basically, my color scheme for the day's dressing was more of an earth tone.


I felt that it was quite alright, till I went to collect my bags which I sent for washing a few weeks ago. Apparently, the shop has changed its paper bag design and color (I know, since I sent some stuff for washing previously) and its in green color. I thought nothing of it, but when I happened to spot my reflection in a mirror, I was like, "OMGosh, I'm so green! Eco-friendly green!". I shared this with a friend over phone and was asked to take a picture! I kept on saying no, but decided since I went shopping after that and happened to be in the changing room.

So, D... This is for you. :p
Weren't I so green? Well, maybe... If I was using a green hair accessory, green mobile phone, green mobile phone strap and a green bag (
See photo below)
.
Weird if Miu Miu decides to introduce this bag model in a lime green shade!
See photo below! LOL!


So I mentioned about being in the changing room, right? Yes, cos I was trying on a tee in the Guess boutique at Ngee Ann City. And I bought it.

Photo taken with flash. Looks nicer in real life though. :)
Btw, I know being decked in all green isn't exactly being 'eco-friendly green'. It was simply the first thing I thought of when I saw my reflection. For the 'eco-friendly green' term, I would regard clothes that are made through eco-friendly methods as that. For example,
People Tree
, is a company that produces clothes that are produced in various eco-friendly methods while adopting a Fair Trade practice. Even the sweet-faced Emma Watson has teamed up with People Tree to have her own eco-friendly clothing line!
With the finals of the World Cup 2010 happening tomorrow, here's something for those soccer fans... Or fans of handsome soccer players. Heh! You know the jerseys that the players of the Nike's national teams are wearing? They are made from discarded plastic bottles, harvested from landfills in Japan and Taiwan, that were melted down into yarn, before being spun into fabric!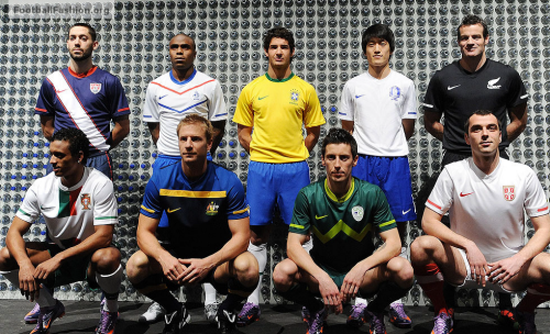 Top row, left to right: Clint Dempsey (USA away), Edson Braafheid (Netherlands away), Alexandre Pato (Brazil home), Lee Chung-Yong (South Korea away), Ryan Nelsen (New Zealand away);
Bottom row, left to right: Nani (Portugal away), Vince Grella (Australia away), Robert Koren (Slovenia away), Nenad Milijaš (Serbia away).
Through this environmentally-friendly method to create those jerseys, Nike has diverted close to 13 million plastic bottles from the landfill. That is enough to cover more than 29 football pitches! How many recycled plastic bottles are needed to make one jersey? 8.
So which team will win the World Cup 2010 title? Netherlands or Spain? Paul the Octopus has been very accurate all these while... Will he get it right by picking Spain as the winner? Or will Singapore's own psychic animal, Mani the parakeet, get it right with his choice of Netherlands winning the World Cup 2010? We shall see! :D
Actually, its amusing that people would say that Paul has been right on in choosing the winners. Maybe Paul was choosing the team that he thinks would lose? If thats the case, he has been wrong all along. LOL!
So anyway.... There are a handful of eco-friendly clothing lines available in Singapore. That is, if you are interested to know. You can check out
this online article
, though it may not be that updated since it was written three years ago.
You may like to read
this online interview article
about a local lecturer, whom is also an eco-textile designer, who creates clothes made of bamboo. Certainly recommend you to visit the
Belle & Dean site
where they sell clothes for babies, toddlers and ladies. Now, if only they have a design of a penguin drawing.... :p
Be green to save green! :)