What to do in Singapore over this Good Friday long weekend?
Two notable events to go would be the (1) former Tanjong Pagar Railway Station that is opened only on 25 March 2016. Check out the 90s-themed art market organised by The Local People and teamed with the Singapore Land Authority. Take photos standing along or lying down on the railway tracks, or reminisce on the glorious railway station and its fine architectures that was opened in 1932. This station was closed since July 2011... Since then, it was used for private events, as well as for public during certain Public Holiday occasions in Singapore.
(2)
i Light Marina Bay
festival is coming to an end this coming Sunday (27 March 2016). Started on 04 March 2016, it is Asia's leading sustainable light art festival. Previously held every two years, the Urban Redevelopment Authority (URA) has announced in January this year. Have fun taking photos or interacting with the multi-sensory light installations that were designed by international and local artists, illuminating the iconic Marina Bay waterfront.
This year's theme 'In Praise of Shadows' is making a statement to oppose the current obsession that "brighter is better", as said by Mr Randy Chan (co-curator of the festival). This made me think of the photos in Instagram these days that are all whitish, or having its brightness level to be adjusted upwards. In the past recent week or two, some of my photos on
my Instagram
have been rather 'dark' and 'shadow-playing', and the effect/outcome of them seemed to be well-liked by those who have seen my photos. So there you go, it does not have to be brighter to be better, haha! :p
i Light Marina Bay festival is held along the
Marina Bay area, around Marina Bay Sands.
Me looking at the art projections displayed on the
ArtScience Museum facade.
'What a Loving World' artwork by teamLab (Japan)
The Moon has landed on Earth! :p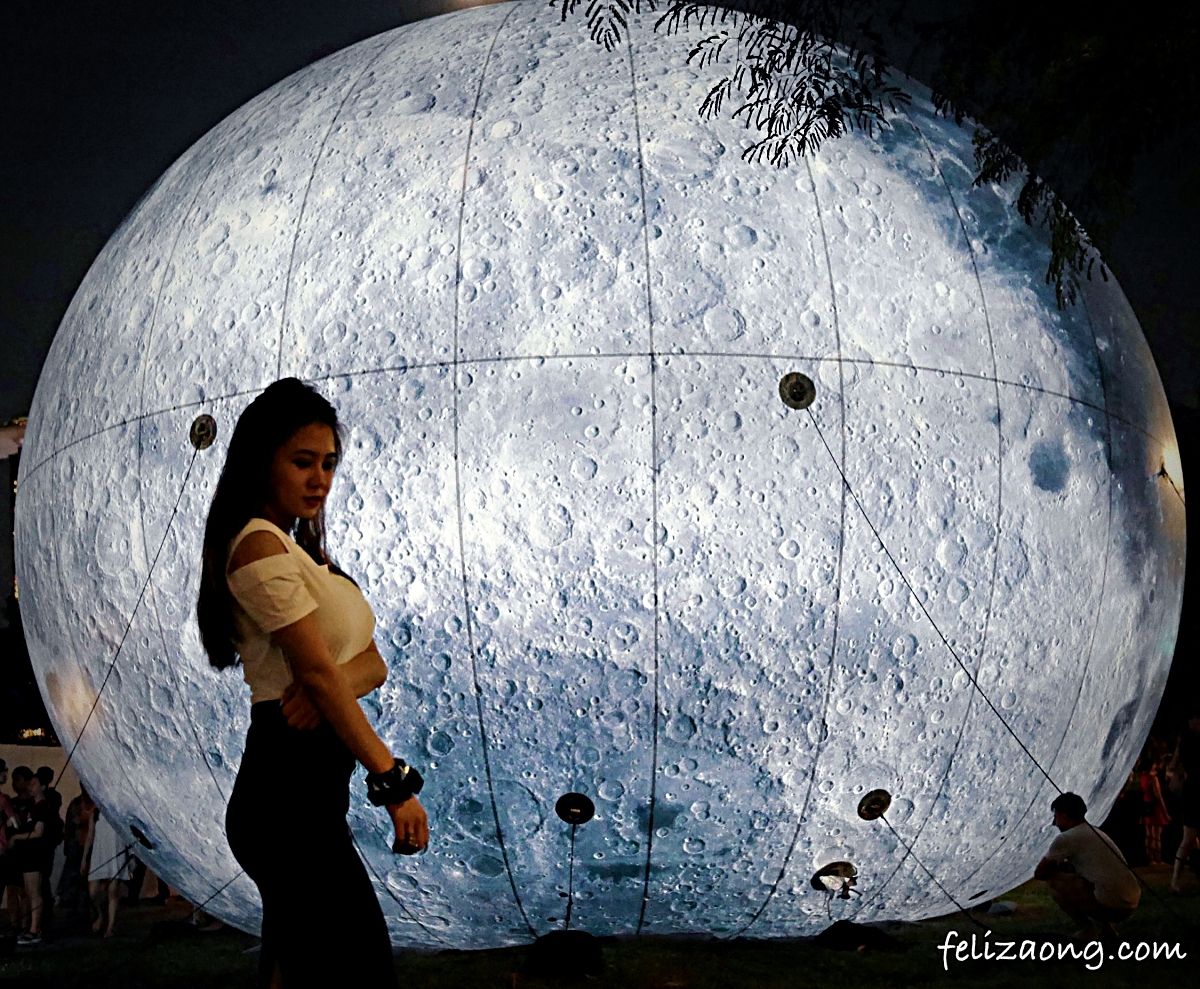 'Moon Haze' Artwork by: Feng Jiacheng and Huang Yuanbeii (China)
The Angel in me has emerged...
'Angels of Freedom' by OGE Group, Gaston Zahr and Merav Eitan (Germany & Israel)
Since the i Light Marina Bay festival also aims to highlight sustainability issues, allow me to recommend you guys to install energy-saving LED lights. Also, switch off non-essential lights at home when you need not use it. One product that saves energy + reduce electricity bills + create a romantic setting at home is the Philips LivingColors lamp. It uses energy-efficient LED lights yet producing different lighting colors (with adjustable intensities and speeds to boot!). Of course there are other sustainable habits that we can have such as turning up the aircon temperatures as that uses less energy. For myself, I have been keeping my room aircon temperature at 26 degrees. There are so many other ways leading to a more sustainable environment.... Do your part for the future generations! :)