There are a lot of sports that require teamwork. For example, dragonboating. Teamwork is about supporting and watching out for each other in the team, as well as being in sync as a team. If one slackens or gives up in his/her rowing, or unable to go with the drum beat, the overall speed and strength will be weakened.
Hence, "Together we are stronger".
This whole thing about teamwork also means a lot to the breast cancer patients out there. With the encouragement and support from their loved ones, patients have the emotional strength to battle it out with this life-threatening disease.
The Breast Cancer Awareness Month (BCAM) is an annual event held globally in the month of October. This is when Breast Cancer Awareness campaigns are carried out, as well as to draw attention and raise funds for research and effort work carried out for breast cancer treatment and prevention. You can show your support for this cause by educating your loved ones and friends - Spread the important message on early detection and breast cancer screening, for it can save lives!
Do it for yourself and your loved ones. Bring forth this awareness to even the men in your family, for they are the necessary pillar of support, especially for their female partner/family member who may have been diagnosed with breast cancer. For you see, "Together we are Stronger", and yes, it is the theme for 2014's BCAM! :)
For all that you might have already know, I have been doing the annual "Pink Fridays" routine - Where I wear the Pink Ribbon' and don PINK outfits on every Friday in the month of October!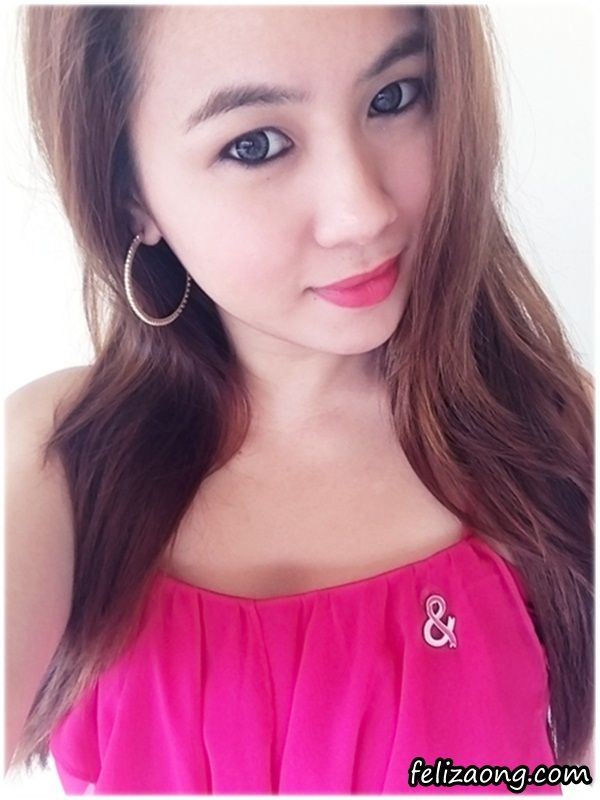 (Photo from last October)
The pink ribbon is a universal symbol for awareness and hope for breast cancer patients that they can lead normal lives after breast cancer, if detected early. Show your support and awareness by wearing the pink ribbon this month!
Where To Get the Pink Ribbon for Breast Cancer Awareness Month???
Alternatively,
make a donation of $2 to get a limited-edition Pink Ribbon pin
, just
like how I always did
! :) The collected funds will go towards Singapore's Breast Cancer Foundation's effort of raising awareness of Breast Cancer Awareness and Prevention, fund-raising activities and support group for breast cancer patients. Each year, I will match $2 for every Pink Ribbon pins that I give to my family members, close female friends, and all of my female colleagues. I hope you can do the same thing as well if you would like to help raise awareness. :)
You can get it at TANGS Orchard too!
Thanks to Ms Wong from TANGS who gamely and kindly posed for the above photo!
(Disclaimer: The cashier counter had no customer at that point in time, and she was being nice, unlike her camera-shy colleague who did want to pose together and even shuddered when she saw the photo that she was still in the photo frame despite trying to shun away. No, I am not bitching, but I am proud of Ms Wong for being proud of this cause which her very own company supports too! Thumbs up for you!!!).


I also briefly spoke to Ms Wong regarding this BCAM campaign and she is also one who thinks this cause, and raising awareness of it, is important. I hope that there are more people like her out there!
Roadshow dates (Where you can get your pins at):
04, 05 and 06 October 2014: Takashimaya from 11am to 8pm
11 October 2014: Tampines
11 and 18 October 2014: Marks & Spencer Wheelock
Donation Boxes (Examples of some of the many participating merchants):
I am in no way affliated with the Breast Cancer Foundation.Nor I was paid or urged by any to write this post.
I wrote this post as I support this annual event as an Individual. I will have another blog post pertaining to the BCAM in time to come.And thanks for reading! I hope you will go get the Pink Ribbon pin! :)
I shall end off here...


But before you go and have fun on this long weekend, do check out my past posts relating to BCAM! :)